It's that time of the year – FARMERS MARKETS are open and ready for business!!
Your local farmers market is bursting with fresh fruits and vegetables that taste out of this world. They are selling produce that was just picked with even more nutrients versus the produce bought at the grocery store. That produce often times was picked too early lacking those important nutrients and sat on a truck for who knows how long before it made it to your grocery store. There is nothing like fresh fruit and veggies from a farmers market. I encourage you to buy from a local farmers market when you can. Enjoy all the wonderful tastes of summer.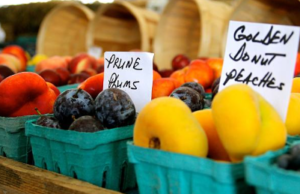 Another great reason to buy from your local farmers market is that most of the farmers who participate in farmers markets use organic methods of growing, so you can feel good about buying even healthier produce that is chemical free.
Shopping at a farmers market is very affordable. Think about all the "hands" the produce in your grocery store has touched. All those businesses are getting a cut, so naturally, grocery stores have to increase the price, significantly. Shopping at a farmers market, there are no middlemen, which means you get the best price for the best produce. Who doesn't like the sound of that??
There are numerous reasons to shop at a farmers market, so whatever your reason, get out and shop this summer. When you buy at a local farmers market you are supporting those local farms, which in turn strengthens your local economy and is good for our planet. A win-win for everyone!
Happy shopping!!!
Farmers markets for Baltimore County
Baltimore County Farmers Market at Maryland State Fairgrounds
2200 York Road, Main Gate, Lutherville-Timonium 21093
Wednesday: 10am – 1pm, Jun. – Oct
Boordy Vineyards – Good Life Thursdays
12820 Long Green Pike, Hydes 21082
Thursday: 3pm – 7pm, May – Sept.
Catonsville Farmers Market
The Christian Temple, 5820 Edmondson Ave., Baltimore 21228
Wednesday: 10am – 1pm, May – Nov.
Catonsville Sunday Farmers Market
730 Frederick Road, Catonsville MD 21228
Sunday: 9am – 12:30pm, May – Nov.
Dundalk Farmers Market
44 Shipping Place, Dundalk 21222
Saturday: 7am – 12noon, Jun. – Oct.
Hereford Farmers Market
17004 York Road, Parkton 21120
Saturday: 9am – noon, May – Oct.
Kenilworth Farmers Market
798 Kenilworth Drive, Towson 21204
Tuesday: 3:30pm – 6:30pm, Apr. – Nov.
Pikesville Farmers Market
1700 Reisterstown Rd., Pikesville 21208
Tuesday: 2pm – 6pm,  May  – Oct
Randallstown Farmers Market
9820 Liberty Road, Randallstown 21133
(corner of Marriottsville and Liberty Rd.)
Wednesday: 1pm – 5pm, June – Oct.
Reisterstown Farmers Market
120 Main Street, Reisterstown 21136
(in front of Franklin Middle School)
Sunday:  9am – 1pm, June – Oct.
Towson Farmers Market
17 Allegheny Ave, Towson 21204
Thursday: 11am – 3pm, June  –  Nov