We are delighted to introduce, Dr. Dina Sanchez. Dina devotes her life to being a busy wife, mother of four, orthodontist, professor, and artist. These multiple roles and experiences have shaped her passion to care for children, teenagers, and adults in the Baltimore County area. She shares with us her journey of growing her own local practice, Roland Park Orthodontics, while also finding a unique way to serve children in need of accessible dental care. Read along to feel inspired by Dina's words and perspective on life as a working mother.
Tell us a little bit about yourself personally!
I believe success isn't about how your life looks to others. It's about how it feels to you. Hi, I'm Dr. Dina Sanchez. Board Certified Orthodontist, mom of four, wife, lacrosse superfan, University of Maryland Professor, published author, tooth fairy…. and proud owner of Baltimore's jolliest car- "Twinky"!
I have a tiny version of a life outside of orthodontics. Family is my true love and my happiness. I live in Baltimore County with my husband and children. When I am not working on creating beautiful smiles and teaching awesome dental students and orthodontic residents at the University of Maryland, you can find me on the pitch cheering for my children's lacrosse, track and football teams.
What do you love about Baltimore County and what made you consider raising a family here?
Baltimore County is cozy and a wonderful place to live because of the people who live here. We live amid kind neighbors, as well as wholesome and dedicated teachers, making BOCO schools extraordinary. Strong parent involvement helps to elevate sports and community activities too. Everywhere you go, you experience generosity and helpfulness to make Baltimore a better place TOGETHER. The proximity to metropolitan cities such as NY and DC, as well as geographical variety from mountains to beaches are a major plus of this mid-Atlantic region. Our children have the opportunity to grow up surrounded by diversity and are experiencing many cultures along with their traditions, which enriches their lives as well as their outlook on life. I have lived in many places (in this world and a few states in the US) and have come to discover that Baltimore County is a well-kept secret. I love raising my children here and the life it has to offer.
Why did you decide to become an orthodontist?
I had a dilemma. I loved art and I loved science. As I was filling out the art and design college application during my last year of high school, I had this nagging feeling that I would miss out on my dream of becoming a doctor one day. And a life without art was unimaginable to me as well. When I was a child, I saw a documentary about an oral surgeon performing life changing procedures on children afflicted with cleft lip and palate – that is when I realized that helping others with medical procedures was what I wanted to do when I grew up. So I decided to pursue a career in medicine and somehow find a way to incorporate art into my life… but I just wasn't quite sure how to do it. It took me 11 years of schooling to become an orthodontist. Orthodontists often work with children, teens and adults in diagnosing and treating misaligned teeth as well as craniofacial disorders and cleft lip and palate. I had a dream of owning my own practice one day, where I could make others smile. 11 years of dedicating myself to studying made me grow more and more anxious to get back to my art.
I designed my practice to have large blank walls to display my art and use it for a charitable purpose. And voila! I finally had both my passions combined under one roof. When people adopt my art, the proceeds go to cleft and palate children in need of access to dental care. To me this is happiness!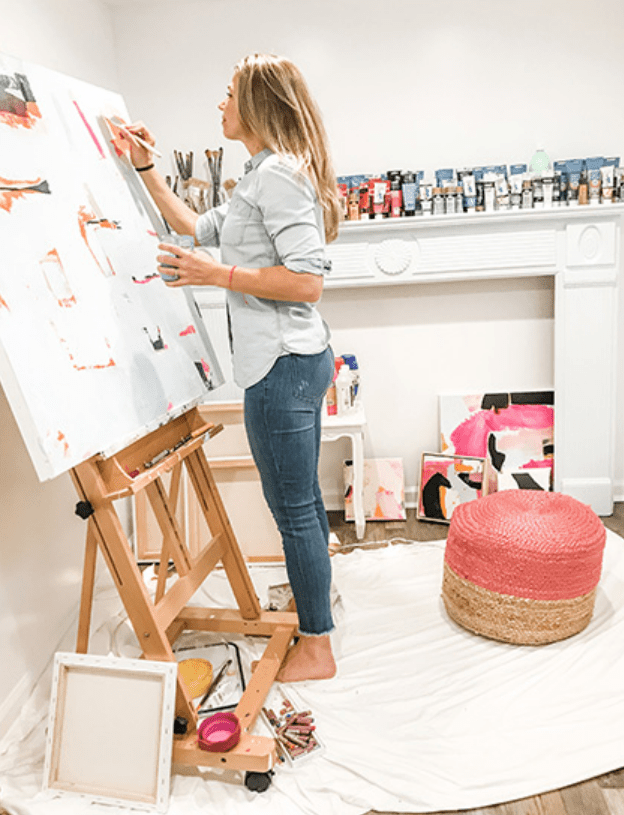 How do you find a balance between being a mother and an orthodontist? Do you have any tips for other working mothers?
Honestly, I don't strive for balance, as it would set me up for failure. Rather, I live in gratitude grounded in knowing that I have (healthy) children and a beautiful career. Everyone keeps telling me, "kids grow up fast, enjoy them." I may be tired and at times I may not feel balanced, but I remind myself to just appreciate this time as a mother. In life we can have everything, just not all at the same time. Now is the time to enjoy my children, because soon they will be gone. They say, "Long days, short years." This is so true. As for orthodontics, know this: I get to make people smile for a living and this is a privilege to me. Don't get me wrong, it is exhausting to get through a whole patient day, but it is a good kind of tired.
My tip for any working mom is to have a morning routine or ritual before anyone else wakes up. For me, this means taking 30 to 60 minutes for myself before I hear the word "momma" in the morning. I find it grounding to enjoy a hot cup of tea or take some moments to journal or meditate. It helps me focus and be better at what the day is going to ask of me as a mom, orthodontist, practice owner, team leader and professor.
What do you find to be the most challenging and most rewarding part about being an orthodontist?
The most rewarding part about orthodontics is being part of someone's journey of BECOMING better than they were. I get to know my patients, and often their whole family. It is fun to hear about my patients progress in life, celebrate lacrosse tournament victories, which college they got accepted to, their wedding, their first baby, their transformation and most of all how they feel when they have achieved their best smile. Priceless and very rewarding to me. Orthodontics can build confidence as well as self-esteem.
What makes Roland Park Orthodontics unique to other orthodontics offices around the area? Are there specific services that you provide that set you apart?
Roland Park Orthodontics is a "fusion practice," offering not only orthodontics for (all ages), but also esthetic services, such as teeth whitening and esthetic injections. This allows us to provide a wide array of services for our patients seeking to complement their new smile. Having a strong injection foundation as a DDS, eclipsed with my specialty of orthodontics aka. "specialist of the face" I found myself having a perfect blend of skills to apply toward therapeutic and esthetic Botox injections. My patients (or parents of patients) love the opportunity for some self-care as well as the convenience of having easy access to esthetic appointments in combination with their (or their children's appointments). Our services are traditional and clear braces, Invisalign, teeth whitening, esthetic Botox, Therapeutic Botox (TMJ), airway wellness.
What are some of the ways that you help your patients and families feel comfortable in your space and teach them to find benefits from going to the orthodontist?
Roland Park Orthodontics is a space designed to make people feel good. It is bright, boutique, modern, warm, touches of eco chic and has enough whimsy to make anyone feel at ease. However, the soul of our team is what makes us unique. Our team is made up of kind, wholehearted and dedicated humans who are excited every day to help you achieve your best smile. The most important aspect of relating to patients and making them feel comfortable is listening to what their needs and desires are. Having been an educator for 11 years at the University of Maryland has taught me to educate my patients from all walks of life and all ages. If I cannot make a 6-year-old understand a treatment plan, then I have not done my job.
How has motherhood impacted your profession as an orthodontist?
My northstar is treating all children as if they are my own. This is all I need to keep my compass aligned with what is best for each of my patients. Also, my experience as an orthodontist and educator in a pediatric dental setting at the University of Maryland has shaped my style of treatment for all patients in a kind, caring, and compassionate way. As a mom, I think I am (somewhat) cool enough to talk to my patients about Fortnight, Clash of Clans, and how to deter unwanted boyfriends with a headgear, but am nerdy enough to talk about the nitty-gritty of braces and straightening teeth.
Anything additional you'd like to share? (i.e. mom life/advice, additional details about your practice, contact information, website, etc.)
Boutique, modern and fun- our bright and comfortable office is seated right in the heart of Bare Hills at 1421 Clarkview Road, Suite 112, Baltimore MD, 21209. That means great orthodontic care is only a few minutes from your home, work, or school. You can find out more about us at www.rolandparksmiles.com and @rolandparkorthodontics. Contact us at 410-296-4400 to schedule for complimentary smile consultation.
We strive to support local businesses! What is your favorite place in the Baltimore County area to:
'LOVE IS EVERYWHERE' | 48 X 36 | Mixed media on canvas.